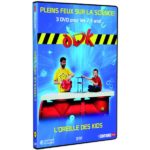 Experience physics directly, slip into the skin of researchers and become the actor of exciting experiences, this is the aim of the broadcast l'Oreille des Kids which transposes the approach of the PhysiScope to television. This fruitful collaboration with the Swiss TV channel RTS encourages 7-10 years old children to embrace the major principles of physics with enthusiasm and fun.
The first 32 episodes are now available on DVD (in French only) !
The set of 3 DVDs can be ordered on the PhysiScope and the RTS boutique websi tes as well as in several specialized shops at the price of CHF 29.-
Recently, l'Oreille des Kids has been selected by the Prix Jeunesse International 2013/14 to be featured in its catalog « Quality in Children's TV Worldwide » and was presented at the Media Bar during the competition in June 2014 in Munich. The broadcast has also received an honourable mention during the Cynopsis Kids Imagination Award ceremony in New York on June 11, 2014.
Given the success of the broadcast, a second season of 32 broadcasts is currently in production and a third one is planned for 2015.